The Jack, Mens Wedding band featuring Rosewood, Grey Maple with Dual Copper inlay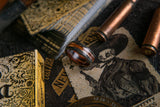 Perfect!!!
This is my fiancés wedding band. We are over the moon with how much we love it. It was exactly what we wanted and I couldn't have asked for anything better! 10/10 recommend. I even got a personalized note.
This ring is gorgeous
I bought The Jack ring as my wedding ring, and I really love it. The color of the maple is lighter than in the image (on the website looks more black than gray), but I like it even more. The customer service was very helpful. Very happy with my purchase,
Most Beautiful Ring
I was very skeptical about ordering this ring originally because of me seeing the add on Facebook. I was afraid it would be a scam and not be worth every penny paid however, I love this ring. It is an absolutely beautiful ring. I had to send it back to have it up sized by 1/2 a size but that so far has been a very easy transaction. Ring and Grove Co. Have been very helpful. I would definitely do business with them again. Very very pleased with my purchase.
Absolutely love the ring. It's is gorgeous.
Amazing!
Awesome beautiful amazing crazy rings! It's simply crazy how beautiful they are! Both me and my fiancé live them!