Mens Wedding Band Nicknamed The RSG. featuring Silver, German Glass and Rosewood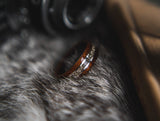 A touch thinner than expected but a beautiful specimen nonetheless.
I am worried that this will break easily but I'm cautiously optimistic based on previous reviews. It really is a nice ring. We shall see.
Thank you!
Highly recommend Ring & Grove! They were so helpful and very efficient. They were quick to answer questions and provide assistance. They go above and beyond when it comes to customer service! Their products are one of a kind and made my parents so incredibly happy!
Thank you so much!
Was expecting the wood to be darker
Over amazing ring design and style. However, the pictures for the RSG makes the wood look like a darker stain than the ring i received.
Looks great, very pleased with the quality.
Beautiful Finish! Looks amazing!
I love this ring, and I can't wait to wear it on my wedding day. Beautiful craftsmanship, lightweight, and blemish free.
Love it! Definitely recommended to anyone on the fence about it!