Mens wedding band made from santos rosewood with Double Offset Copper.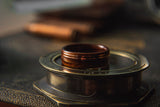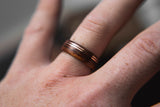 Excellent all around
Excellent service all away around 😀
He loves it!
Looks great! My husband loves his surprise. The lacker is a bit fragile, he takes it off when we are working on our landscaping. It does take some wiggling to get it off so that can be an issue when we are doing heavy physical work or working with stone that might scratch the polish. But beyond that, the quality is GREAT! The look and quality is 5 stars. Would definitely buy again! I cried at the beauty of it when I opened the box the first time.
Just as beautiful as the pictures
When I ordered my ring, I was very worried that it would not seem as pretty as shown in the pictures. I ordered one anyways. They wait time they gave me was right on the spot. When I got the ring and opened it, the ring was as wonderful as what my expectations were. Thank you for a wonderful experience.