Mens Wedding band featuring Whisky Oak, Ebony with Offset Silver Inlay.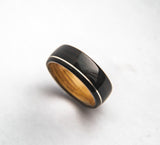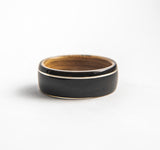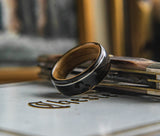 Amazing Custom Rings
Can't say enough good things about our rings. Great customer service, fast shipping (came earlier than expected), and the rings themselves are beautiful. If you have an idea but don't see it in the pictures on this site, just email with your idea and they will make it work.
Our wedding bands
I'm not great with words and typically don't take the time to write reviews, but my ring is more than I could've asked for. I purchased a ring for my wife and myself, and we both absolutely love them. I have a passion for woodworking and my wife and I both wanted something less flashy than the typical silver/gold and in her case diamond on top. If you are looking for something meaningful, but aren't a fan of anything over the top I highly recommend looking at these elegant and unique rings. Thank you for giving us something we can cherish the rest of our lives.
-Tyler + Erin
Wonderful to work with!
They have been so helpful with re-sizing our ring even after originally sent.
Exactly what we expected
The ring is very well made, light and simply beautiful. The picture and description were on point and the customer service was excellant. Couldn't be happier with it!
Unique
The seller is so nice and responsive! The product was amazing! My husband loves his ring and he says it feels nice and smooth to where he even forgets he is even wearing it. I'll definitely be purchasing a ring for myself!