Mens wedding band made from santos rosewood with 2 copper wires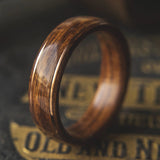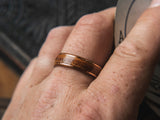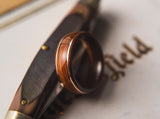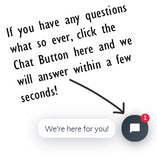 Wedding ring
Great ring my husband love it
Amazing ring! Amazing service!
I only have good things to say about Jeff and his craft. I bought one of his ring for my fiancé and it looks stunning. My fiancé had never worn any jewelry before and after a few weeks wearing this ring, he is loving it a little bit more everyday. It looks as beautiful as on the pictures. The copper colour fits really well with the rosewood and skin colour, plus it changes colour depending of the surrounding light : sometimes golden, other times pinkish. Also, the coating makes it slide easily on the finger; really comfortable.
But I must also share about this company's great service. I had to interact with Jeff and his wife a few times over the phone or emails and it was always very courteous, understanding, quick and helpful. At first, we got the size wrong (it was too large), so we asked to have it resized, which was done quickly without any hassle. But then, we discovered it still did not fit. We had not realized that a coated wooden ring is more slick than a metal ring, so it moves more easily on and off the finger. Jeff was really understanding and wanted to help us the best he could. In the end, I asked for a new ring to be made at half the price, because I wanted to be sure it would fit perfectly my fiancé's finger. I'm so happy we did! And we even got to keep the first ring.
I would recommend without hesitation this company to anyone who is looking for wooden rings. Jeff has real talent and offers great customer service.
Beautiful craftmanship
Perfect fit and feel. Looks even better in person. Looking forward to wearing it proudly in the months ahead.
Just Perfect!
Beautiful, lightweight, comfortable..... We Love It!!!!
Beautiful Ring
We are very happy with our purchase.